Fun Multigenerational Exercise for Family Health and Fitness Day USA
Elderly Care in Islip NY
You know how important it is to stay physically fit and active in order to stay healthy throughout life. This is applicable as much for your elderly parent as it is for your children, which makes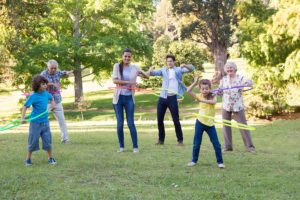 encouraging activity and exercise the perfect thing for both of the generations to enjoy together.
September 24 is Family Health and Fitness Day USA. This is the ideal opportunity for you to spend some time with both of the generations of your family that rely on you for care so that you can help them to get the benefits not just of the physical exercise that they can enjoy, but also the time that they spend together.
Let these ideas inspire you for fun multigenerational exercise options for your family to enjoy on Family Health and Fitness Day USA and throughout the rest of the year:
Visit a park. In many places the weather is cooling down, which means that it is the perfect time for you to start spending more time outside. Head out and visit a local park so that your parent and your children can enjoy all of the activity opportunities that these locations provide. This can include walking the trails, using exercise stations set up along the way, or even playing a game of catch or Frisbee.
Play a video game. Playing a video game might not seem like the most active of options, but today's technology has eliminated the idea of video games as completely inactive forms of entertainment. Choose a gaming system that uses physical movements to control the games, such as the Wii or the Playstation Kinect.
Obstacle course. Everyone loves a little bit of competition and when you encourage it as a friendly concept, it can be fantastic not just for your physical health but for your mental and emotional wellbeing as well. Set up a simple, accessible obstacle course inside the home or out in the yard and encourage each member of the family to run it. Feel free to modify the course for each participant or each age group so that everyone has the chance of success and can focus on improving their own time as they repeat the run. This can be as simple as walking from one place to another, picking something up, and coming back, or much more complex depending on health and functionality.
If you think that your elderly loved one would benefit from getting more physical activity in their daily lifestyle, now may be the ideal time for you to consider starting elderly care for them. Having an elderly home care services provider in their home with them is a fantastic way for your parent to be able to enjoy a more active, engaged, and fulfilling lifestyle as they age in place with the help of a personalized approach to their care and support. This care provider can evaluate your aging loved one's individual limitations, needs, and challenges, and use those to develop the approach to care and assistance tailored to helping them to get out of the home and into the world more often, handle more of their own tasks, and keep themselves as safe, healthy, and happy as possible.
If you or an aging loved one are considering

elderly care in Islip, NY

, please contact the caring staff at Family First Home Companions. Serving all of Long Island. Call today: (631) 319-3961
Jennifer Benjamin has a Masters degree in Business Administration, a graduate Certificate in Geriatric Care Management, is a Certified Dementia Practitioner and is co-founder of Family First Home Companions .With a background in human resources and business management she helped to build a company that is founded on professionalism, integrity, compassion and know-how.

Jennifer has specialized training in Alzheimer's disease through the Long Island Alzheimer's Association and the Long Island Alzheimer's Foundation.She also volunteered her time with the Alzheimer's Disease Assistance Center of Long Island for 3 years by providing cognitive stimulation to an Alzheimer's patient group.

Jennifer educates the community about elder care and speaks to caregiver support groups, senior centers, and at professional organizations.Topics include home safety, effective strategies for family caregiving, elder care planning, and awareness about elder abuse.
Latest posts by Jennifer Benjamin (see all)