Family First Supports ADRC's Alzheimer's Walk
Home Care in Massapequa NY
Marjorie Post Park, Massapequa, NY – On September 10th Family First Home Companions participated in the Alzheimer's Disease Resource Center's annual Walk for Alzheimer's.  The Walk is a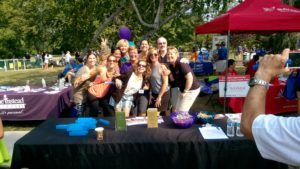 community event that raises money for ADRC's programs as well as support for research that may lead to a cure for Alzheimer's Disease.  The Walk attracted hundreds of families and professionals from the community and featured LI McDonald's Ronald McDonald, a circus, petting zoo, live music, pony rides, a magician and local radio show personality, Walkie Bear.
"The Walk is always a wonderful event that brings the community and businesses together for a common cause to beat Alzheimer's Disease.  We are proud to support the Alzheimer's Disease Resource Center and the wonderful programs and support that they offer to families caring for a loved one afflicted with dementia" said Jennifer Benjamin, owner of Family First Home Companions.
If you or an aging loved one are considering

home care in Massapequa, NY

, please contact the caring staff at Family First Home Companions. Serving all of Long Island. Call today: (631) 319-3961
Jennifer Benjamin has a Masters degree in Business Administration, a graduate Certificate in Geriatric Care Management, is a Certified Dementia Practitioner and is co-founder of Family First Home Companions .With a background in human resources and business management she helped to build a company that is founded on professionalism, integrity, compassion and know-how.

Jennifer has specialized training in Alzheimer's disease through the Long Island Alzheimer's Association and the Long Island Alzheimer's Foundation.She also volunteered her time with the Alzheimer's Disease Assistance Center of Long Island for 3 years by providing cognitive stimulation to an Alzheimer's patient group.

Jennifer educates the community about elder care and speaks to caregiver support groups, senior centers, and at professional organizations.Topics include home safety, effective strategies for family caregiving, elder care planning, and awareness about elder abuse.
Latest posts by Jennifer Benjamin (see all)